I liked my old site's design. It was clean, stayed true to the grid I put it on, and overall felt like a great accomplishment for me to finally put it all together. However, there were some problems with it. Because of this, I've decided to update my site with a new design.
This post is not about the current theme, but the one before it. Still, I thought I would keep it up for the screenshots of other ideas I had. Enjoy!
The old site was made as a partial experiment. Before creating it, I had never written a WordPress theme. By coincidence, I had recently created a clean looking design for the site. I decided the best thing to do would be to create for myself a new site, and at the same time learn how to use WordPress by writing my first theme.
One of the first iterations of the old site's design: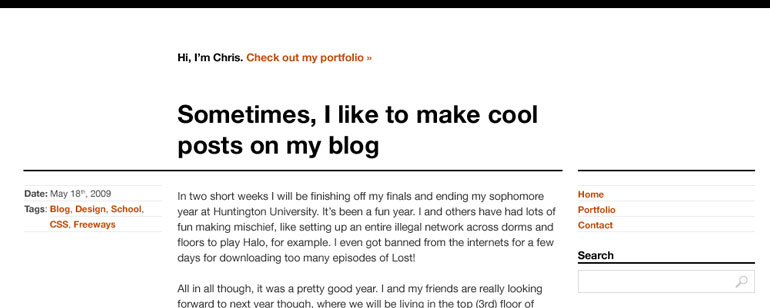 I will miss my old site's design, but I am looking forward to using this new one. Under the hood, this theme is much faster. The old site was horribly hard to modify, since I had no idea of how to properly write a WordPress theme back then!
Another change that you might notice is that I no longer have a Portfolio page. One reason I did this was that my old site wasn't set up very well to make additions to the Portfolio section. Also, I felt like I wasn't presenting my work as well as I should have, and I would rather not show my work at all than to display it in a poor manner.
Eventually, I plan on making a new page on this new site that will replace the Portfolio page. Instead of just posting a couple of pictures and a few lines of text, I plan on writing out my entire design process. An example of what I plan to do can be seen on my recent posting of the design process of the DOVA website. Look for more of these types of posts here in the future.
I plan on making changes to this site in the near future, so don't freak out if things seem out of place. To end this post, I'm going to finish by showing a few designs I came up with for my site that didn't make the cut. Enjoy!
My attempt at a 24 pixel line-height, and all serif fonts:

A very obvious grid layout:

The design I made months before making this one:

A clean design I just recently came up with:

Note: You will definitely see these designs be integrated in the future with either this site or others.