Well, almost everything.
There are at least two breaking CSS changes that I have discovered in the latest stable version of Chrome (Version 22.0.1229.79). All other browsers along with Chrome 21 and earlier render these examples as expected.
Floats don't push block content down
Normally, if there isn't enough space for a block level item to fit in a space it will drop down to another line when there is floated content before it. In Chrome 22, however, the block item will be pushed horizontally past the bounds of the parent element to the right.
Update: Looks like the newer versions of Firefox will render it differently than depicted in the screenshot. Firefox 14 and 15 look like this.
Screenshot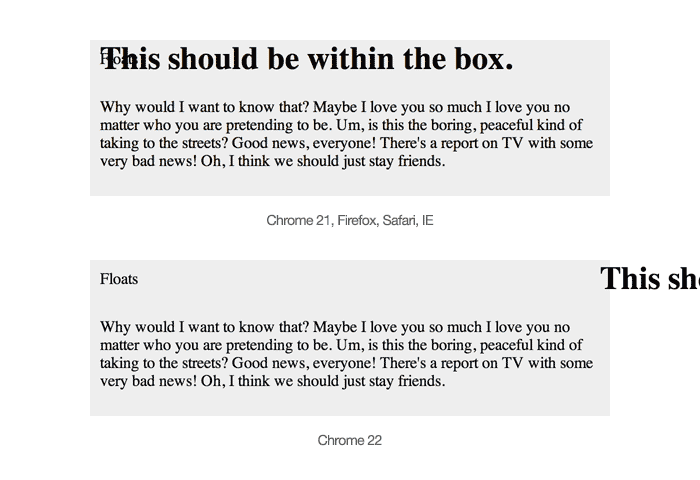 Z-index breaking when element is a child of a fixed parent
In every browser and version before this, z-index was respected across a page even when the element was a child of a fixed element. In Chrome 22 this no longer appears to be the case. There appear to be more issues surrounding z-index, but this is the first one I could reproduce.
Screenshot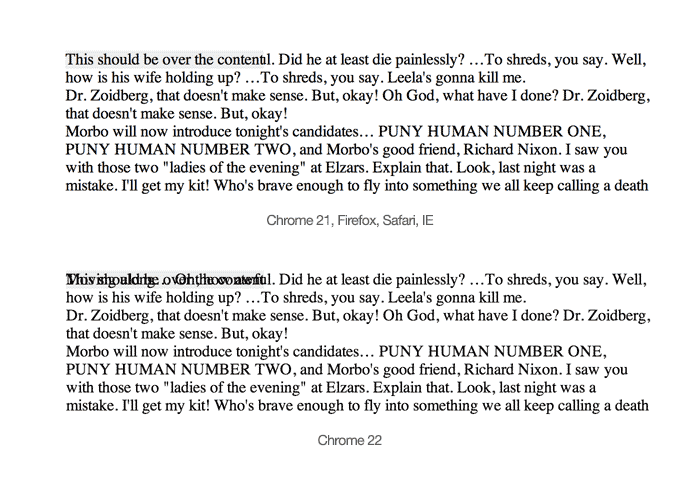 Related: Stacking Changes Coming to position:fixed elements (thanks jamesr_chromium)
Are these bugs?
I tried looking through the CSS spec, but was unable to determine what the correct functionality was with these two examples. If Chrome 22 is rendering them correctly, then every other browser and every version of Chrome before it was wrong. Until this issue is resolved it would be good to keep these two issues in mind when running through the CSS of sites you use or work on.